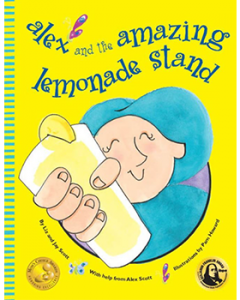 Alex and the Amazing Lemonade Stand
BOOK DESCRIPTION:
Using rhymes and bright, whimsical pictures, Alex and the Amazing Lemonade Stand tells a sweet, true story of a little girl named Alex. Faced with a problem, she comes up with a plan—she will sell lemonade from a lemonade stand. This story shows how the small act of one person can have an impact on many people.
AUTHOR(S):
Elizabeth and Jay Scott
ABOUT THE AUTHOR(S):
Liz and Jay Scott are the Co-Executive Directors of Alex's Lemonade Stand Foundation and parents to four children, Patrick, Alex, Eddie, and Joey. ALSF emerged from the front yard lemonade stand of their daughter, Alexandra "Alex" Scott (1996-2004) who was diagnosed with neuroblastoma, a childhood cancer, when she was just an infant. In 2000, 4-year-old Alex announced that she wanted to hold a lemonade stand to raise money to help find a cure for other children with cancer. In her lifetime, Alex would go on to raise over $1 million before she passed away in 2004 at the age of 8. Since that time, Liz and Jay have worked alongside thousands of supporters across the country to carry on her legacy of hope.
PURCHASE BOOK URL:
---