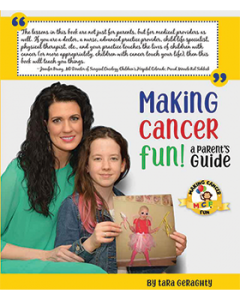 Making Cancer Fun
BOOK DESCRIPTION:
Making Cancer Fun is the go-to resource for families facing childhood cancer. Endorsed by oncology professionals nationwide with a 5 STAR Amazon rating. It offers practical ideas, tools and tips for parents interwoven with a personal story of resiliency and hope. Additionally, each chapter contains interactive workbook pages for parents, designed to meet the individual needs of their child. Get ready for a new cancer conversation! What people are saying: "This book is definitely a must read for anyone faced with the cancer journey," "I wish I had this book when we first heard, "Your child has cancer." I found the tips insightful; presentation enjoyable; suggestions spot-on. This book needs to be in the hands of every family with a new diagnosis!!"
AUTHOR(S):
Tara Geraghty
ABOUT THE AUTHOR(S):
Tara has over 21+ years in leadership development, holding a BA in theater with a background in improvisation. It was those three unlikely skill sets she drew upon in 2009 when her 3-year-old daughter was diagnosed with high risk stage 4 neuroblastoma. She choose to face cancer with fun, and to support her daughter in a non-traditional way. She's a top 5 TEDx speaker, the Author of Making Cancer Fun, (Amazon #1 New Release), I'm a Miracle Kid workbook, From Living to Being, The Rock Star Calendar and the creator of The Grateful Connection Course.
PURCHASE BOOK URL:
---