Better Together: Survivorship Connection
Better Together: Survivorship Connection (BTSC)
Better Together: Survivorship Connection focuses on the challenges and needs of childhood cancer survivors and can help address the frustration, loneliness, and isolation that survivors and their families often feel.  Survivors can use this service regardless of their age, diagnosis, U.S. location, or length of time since their final treatment.
What is BTSC?  BTSC is a personalized program that can connect childhood cancer survivors, their families, and other stakeholders to the information that they are seeking. Volunteer Connectors identify and provide relevant information through one-on-one communication with information seekers.
What are the plans for BTSC?  In the future, Better Together:  Survivorship Connection will become a hybrid program. We will continue to provide personalized communication through our Connector program, and we will launch a self-serve database for those who prefer to search for themselves.
What resources are currently available through BTSC?  Our project team has created a database of organizations from around the United States that provide programs, services, resources, and other types of assistance to childhood and adolescent cancer survivors, or those diagnosed with cancer between the ages of 0-19.
At this time, the categories for the database include:
Advocacy and Awareness/Policy
Education/Scholarships
Employment
Financial/Legal
Health/Wellness
Insurance/Disability
Medical Care/Late Effects
Support Groups/Psychosocial
Wishes/Experiences/Gifts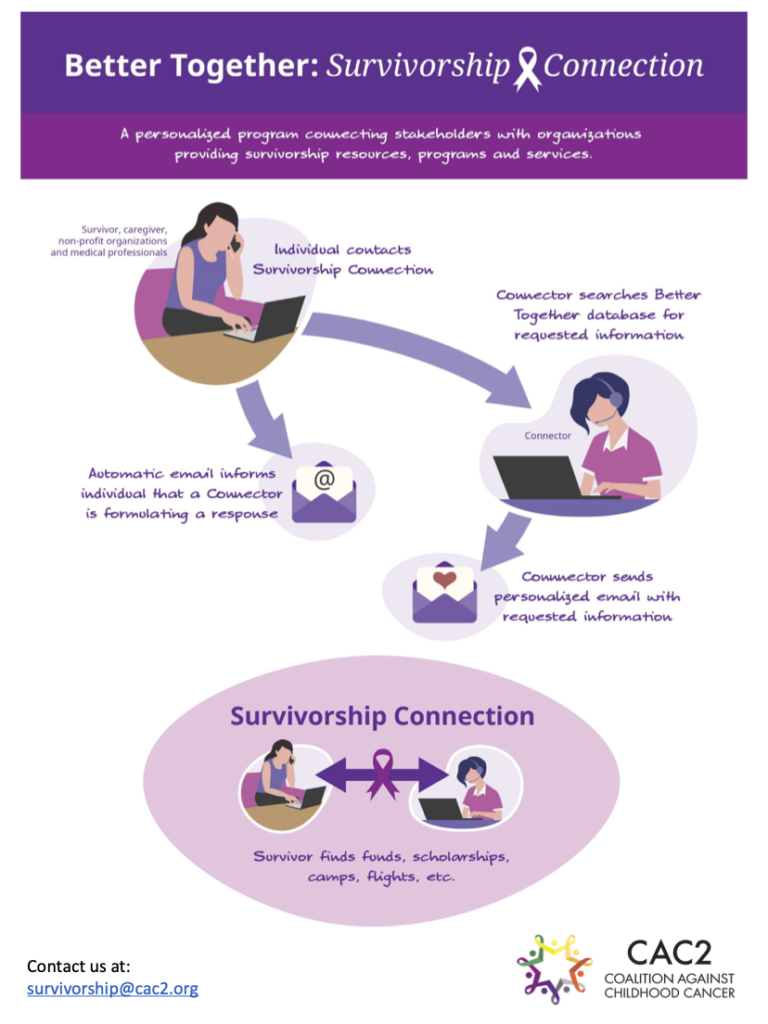 How It Will Work:
Step 1: An individual looking for programs, assistance, services, and resources related to childhood and adolescent cancer survivorship will visit the CAC2 Survivorship page and fill out a form.  They will receive a confirmation email that a Connector will address their request and send another email with a response.
Step 2: The form will automatically be sent to the Better Together email address and read by a Connector.
Step 3: A Connector will review the BTSC database for relevant information addressing the request.
Step 4: A Connector will send the individual a personalized email responding to the request.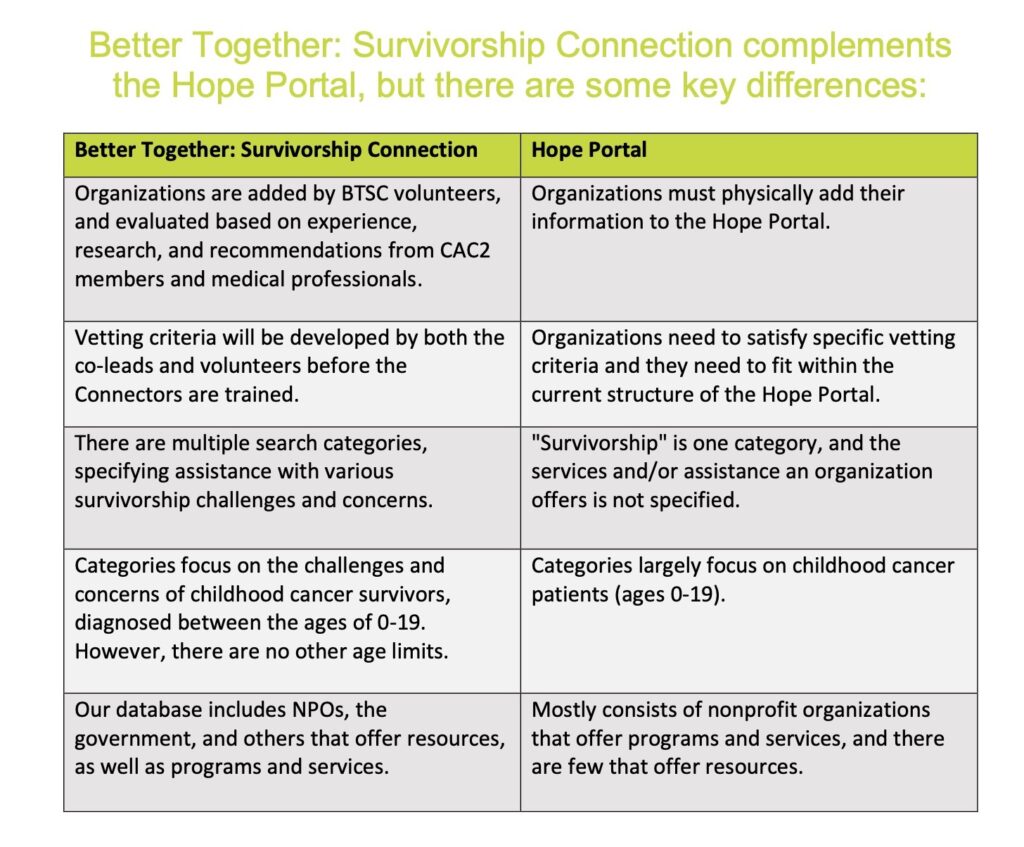 BTSC Program Coming Soon:  Fall 2023
Call to Action:
Volunteers are the heart and soul of CAC2. We are looking for volunteers to help us bring this project, Better Together: Survivorship Connection, to life and make it a success!  In order to accomplish that, we have identified several different areas where we need volunteers:
Data Collection and Management: Identify and add new organizations, and maintain existing information.
Connector Development and Training: Develop and create training guidelines and other materials.
Technology Integration: Work with the team on the Anddit platform to convert our spreadsheet of organizations into a public database.
Marketing and Promotions: Using both traditional and novel forms of marketing, we need to promote this program to get it into the hands of those who need it!
Be a Connector: Connectors will have a rotating, fairly flexible, on-call schedule to address requests via an established email account.
If you are interested in volunteering for this project or if you have any questions about how you can become involved, please email us at 
Do you know of an organization that provides programs, services, resources, or other forms of assistance to childhood and adolescent cancer survivors, as well as their parents/caregivers, family members, medical professionals, nonprofit organizations, and others that interact with a childhood cancer survivor? If so, please email us so that we can conduct further research and add them to our database: .
Better Together: Explained