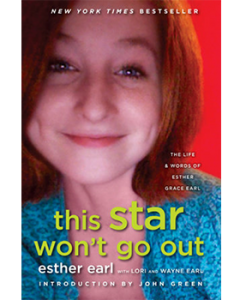 This Star Won't Go Out
BOOK DESCRIPTION:
New York Times Bestseller!
"This moving read will have you reaching for the tissues and smiling with delight….Stunningly alive on the page, Esther shows that sometimes the true meaning of life—helping and loving others—can be found even when bravely facing death." –People Magazine, 4 stars.
In full color and illustrated with art and photographs, this is a collection of the journals, fiction, letters, and sketches of the late Esther Grace Earl, who passed away in 2010 at the age of 16. Essays by family and friends help to tell Esther's story along with an introduction by award-winning author John Green who dedicated his #1 bestselling novel The Fault in Our Stars to her.
AUTHOR(S):
By Esther Earl, Lori Earl and Wayne Earl
ABOUT THE AUTHOR(S):
Wayne and Lori Earl are the parents of the late Esther Earl and founders of the non-profit organization, This Star Won't Go Out whose mission is to financially assist families struggling through the journey of a child living with cancer. To date, TSWGO has given away more than $500,000 to families in need.
PURCHASE BOOK URL:
---