An Individualized Approach Requires Collaborative Efforts
By Vickie Buenger, President of Coalition Against Childhood Cancer
The Coalition Against Childhood Cancer (CAC2) held its first pediatric cancer research conference entitled From Bench to Bedside and Beyond to connect childhood cancer advocates, research funders, clinicians, and scientists from academia and industry. A number of common themes emerged from the various investigators' presentations. Clearly, most childhood cancers are different than adult cancers, and the relatively small numbers of patients present problems for researchers, sponsors, and others responsible for designing clinical trials.
We must remember that these small clusters of patients represent our children.
Presenters also agreed that despite progress in some areas, unacceptable time lags still dominate. All the participants, especially the childhood cancer advocacy community, stand ready and energized to move research forward, and we need scientists to drive the process. This means we need to continue to build a better clinical understanding of the diseases and potential therapeutic targets in childhood cancer.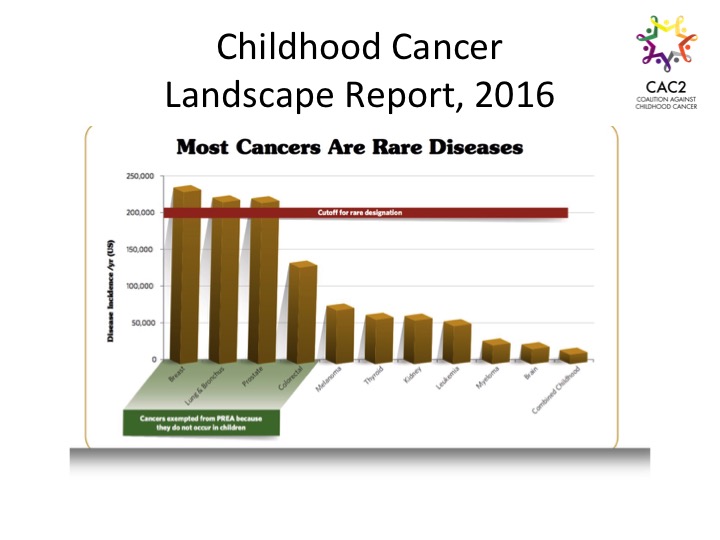 Barriers to Progress
Even with science leading the way and the promise of new treatment targets, agents, and pathways opening up in front of us, structural barriers to progress exist. Fragmentation across the landscape abounds. At one time we categorized twelve types of cancer under the umbrella of childhood cancer. New information about disease differences and subtypes has expanded that number to over 100 childhood cancers. In addition to a proliferating identification of childhood cancer tumor types, numerous institutions across the United States and around the world engage in both studying and treating these diseases and hundreds of entities power the funding for this work.
Work to solve the problem of multiple diseases, multiple pathways, multiple agents, multiple study teams, and multiple funding equations creates additional information management problems and regulatory issues.  The list includes incomplete bio-repositories, incomplete and fragmented data sets, and spotty access to data. Breakthroughs based on newly introduced agents and emerging options (including those discussed at the research conference) may require revisiting regulatory rules and requirements. That agencies like the Food and Drug Administration (FDA) and the European Medicines Agency (EMA) are not fully harmonized despite informal attempts to coordinate creates additional potential confusion for sponsors tasked with bringing new drugs to market.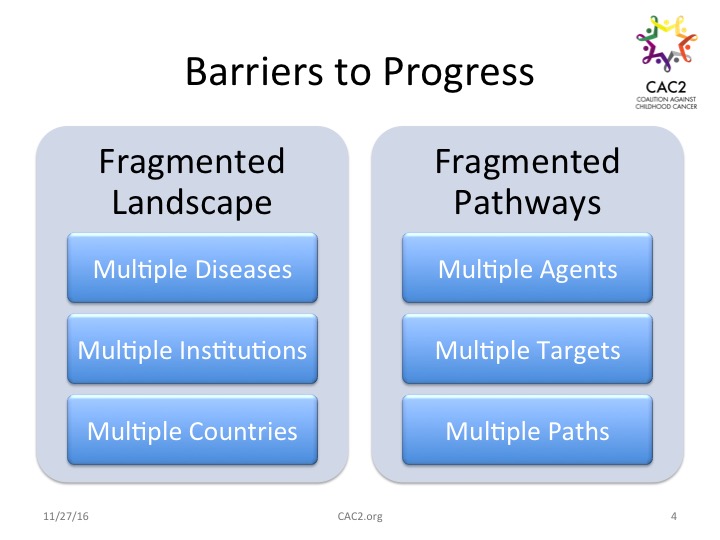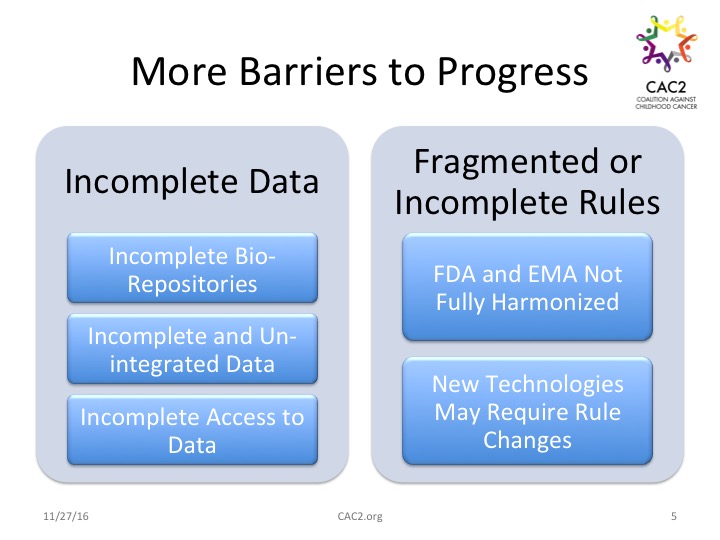 Investigators seeking financial support to further their work face additional barriers to progress. Within the National Cancer Institute (NCI), there are multiple grant programs that include project grants, Outstanding Investigator Awards, the RAS initiative (focused on research specific to one group of mutant genes), and the Provocative Questions (PQs) project. Funding is also available through many, many private foundations and charities.  Yet the existence of multiple potential sources of funding also presents challenges to progress, as grant-seekers have to navigate the funding cycles and proposal requirements of hundreds of individual childhood cancer foundations.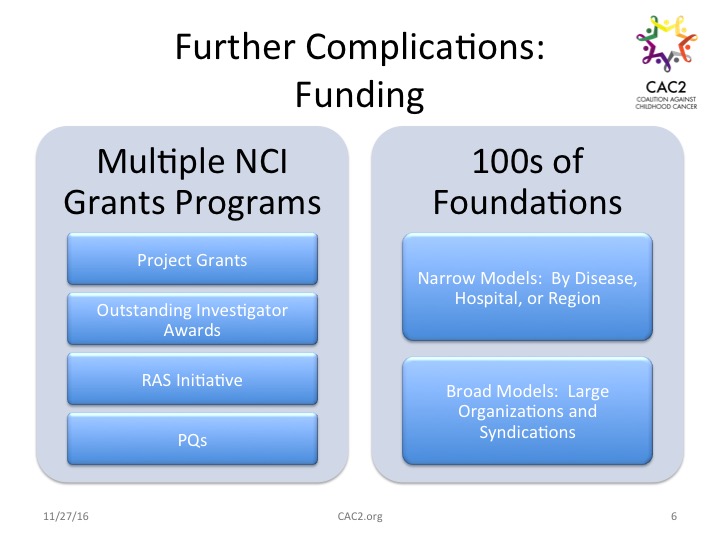 For researchers able to negotiate the fragmented and complex processes in place, the net payoff could be woefully small. The NCI budget got a bump in 2016 to $5.2 billion, with pediatric cancer-specific funding at approximately $200 million. Foundation support for childhood cancer research is estimated at about 50% of the NCI budget.   For comparison, a generous estimate of childhood cancer research for 2016 might slightly exceed $300million, while a conservative estimate of spending by Americans on Halloween this year exceeded a staggering $8.2 billion (Fortune, October 31, 2016).
Wish List
Based on the presentations and discussions that took place at the CAC2 research conference, it is abundantly clear that clinicians, researchers, and advocates in the childhood cancer community share a common "Wish List" that includes the following:
Solve the challenge of small patient numbers
Collect and analyze more preclinical data
Encourage greater data collection and sharing
Secure earlier and more generous access to drugs for children with cancer
Secure earlier and more generous access to clinical trials for children with cancer
Make needed adjustments to the clinical trial infrastructure and trial design
Build pathways to better prioritization for pediatric-specific therapies
The overarching question we face is how do we move to action and accelerate the development of more effective therapies for childhood cancer?
Collective action is in order, formed on the basis of communication, collaboration, and prioritization. The criticality of setting up channels of communication cannot be overstated, given that good and bad outcomes in any real-world setting tend to be highly reflective of the quality of communication. There will be a shared responsibility among those represented at the CAC2 research conference (Researchers, Clinicians, Sponsors, Regulators, Funders, and Families) to make positive change for children with cancer a reality.
The first step will be to use communication and collaboration to "close the gaps"—creating new pathways for the richness, reach, and timeliness of information. While this first step won't necessarily be easy, the second step will be even more challenging: bridging the existing gaps in public/private partnerships. This second step may very well call for a new entity charged with this task and for which potential goals could be along these lines:
Look for small, evidence-driven wins
Build templates for cooperation
Create processes for cooperation
Improved access to information
Foster deep and wide communication
Everyone working towards this way forward should check their egos at the door as a prerequisite in this effort to foster collaboration among a very diverse group of individuals.
There are pressing questions for us to address right now for continued dialogue: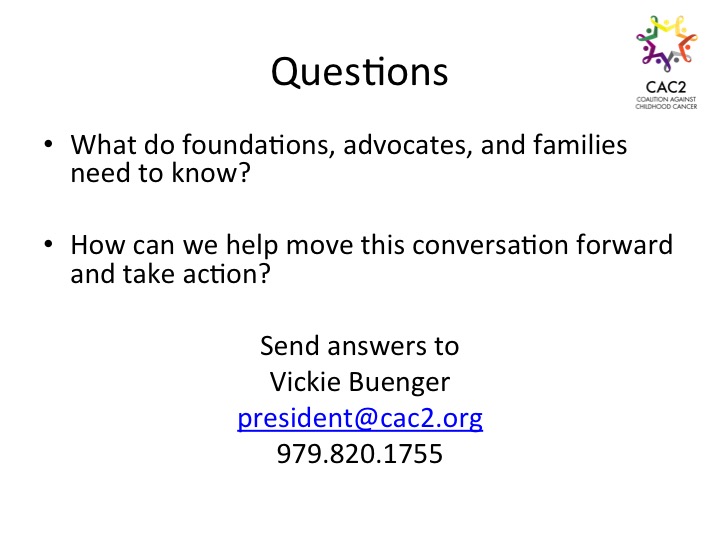 In moving forward with the goal of creating a world without childhood cancer, please feel free to contact me directly with any ideas that you may have and consider becoming a member of CAC2, if you have not already done so. Membership is not only open to foundations but also to individuals who wish to collaborate in this exciting era, when we are on the brink of positive change for children with cancer.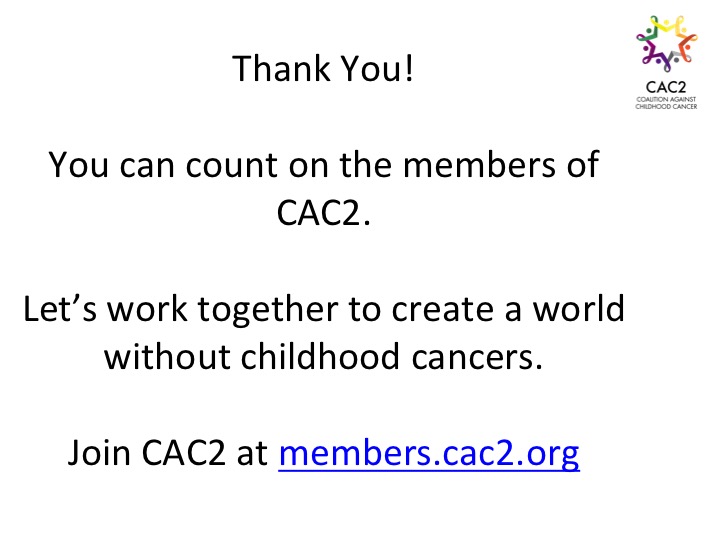 Summary of remarks presented at the CAC2 pediatric cancer research conference, From Bench to Bedside and Beyond, Cold Spring Harbor Laboratory, November 1, 2016.