CAC2 Member Blog–Joining Forces to Bring New Therapies to Children with Cancer
By CAC2 Member Cesare Spadoni (aPODD).  
"Pharma and biotech companies do not develop drugs for kids with cancer!"
How many times have we heard these words within the childhood cancer community?
Over the past several decades we have witnessed unprecedented progress in oncology, with an array of innovative and more targeted treatments reaching cancer patients. However, these scientific advances have only partially benefited younger patients. The pharmaceutical industry, in strategic pursuit of bigger financial returns, has traditionally focused on adult oncology indications. As a result, over the past 30 years more than 200 new drugs have been approved by the US Food and Drug Administration (FDA) for the treatment of cancer in adults. During the same period, only four drugs (less than 2%) were developed and approved specifically to treat childhood cancer.
The paediatric oncology community has done an admirable job improving survival rates using the available cytotoxic drugs, but for some childhood cancers there has been no significant improvement in survival rates for decades. Moreover, for many of those patients surviving their initial diagnosis, the drugs in use today cause significant acute negative late effects, including secondary malignancies. It is widely agreed that any further improvement in the survival rates and long-term quality of life for many aggressive cancers in children and adolescents will only be possible when patients have access to more innovative drugs.
To speed up drug development in paediatric oncology so that promising new treatments can quickly become available to a desperate patient population requires a new approach.
Arguably, childhood cancer foundations should take a more direct role in drug discovery and development and embrace a new operational model. They must come to terms with the fact that drug development is an expensive, challenging, and risky endeavour, and that new therapies can only be developed by commercial entities.
The traditional model of preferentially supporting academic, non-commercial research can and has only had a limited impact on drug development. Even doubling basic federal research funding will not lead to more drug approvals if the right incentives are not created for biotech companies creating new treatments along the clinical development path. Non-profit organizations must learn to work in partnership with for-profit entities to accelerate the clinical development of innovative drugs and ensure they reach patients as FDA-approved therapies as soon as possible.
This is indeed the venture philanthropy model successfully championed by the Cystic Fibrosis Foundation (CFF) since 2001. By supporting co-development projects with biotech companies, CFF dramatically changed the drug development landscape for this disease and was responsible for the regulatory approval of Kalydeco®, the first drug to address the underlying cause of the disease in a subset of patients. Moreover, CFF achieved this impact on patient's lives together with the generation of massive financial returns. For the sale of its right to Kalydeco royalties, CFF netted $3.3Bn, which could then be invested in multiple research projects. There is no reason to believe that this business model would not work for childhood cancer.
The venture philanthropy model requires foundations willing to adopt a new operational schema and partner with industry.  It also requires the existence of mission-driven commercial entities willing to break the status quo and tackle unmet medical needs.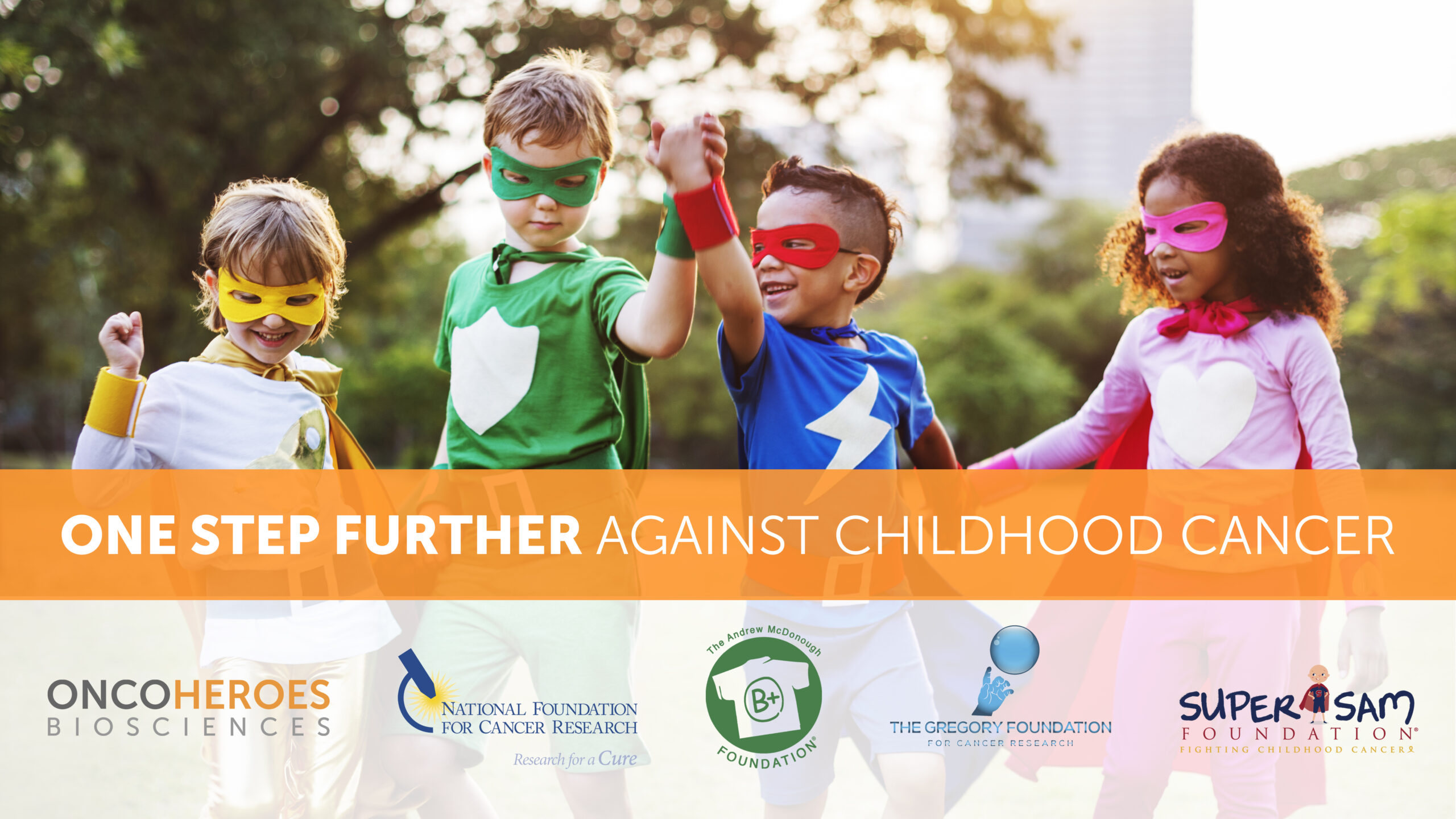 Oncoheroes Biosciences was specifically created to fill this vacuum and change the outlook of children and adolescents with cancer. The Boston-based biotech company was founded by two parents (and CAC2 members) touched by childhood cancer and brings together a team of seasoned drug development experts from across the world. Oncoheroes is 100% focused on the development of specific drugs for paediatric cancers. With its own drug discovery lab in Europe, Oncoheroes is working to identify potential new treatments for specific childhood cancers that can quickly be moved into clinical testing. The first project targets medulloblastoma, and the company is aiming at reaching the preclinical regulatory stage by the end of 2021.
In parallel, Oncoheroes is pursuing an active strategy of licensing drug candidates from academia and industry. These assets may represent academic projects that reached a critical stage, but lack funding for further development or may represent co-development opportunities with biotech partners.  Other projects involve discontinued compounds, set aside by industry when clinical data did not support further investment for adult cancers, but which still hold promise for younger patients.
An example of the latter is volasertib, the investigational compound Oncoheroes licensed in 2019 from pharma giant Boehringer Ingelheim (BI). Volasertib was originally discovered and developed by BI for the treatment of acute myeloid leukaemia but was later shelved. Academic groups in Europe generated compelling data for a possible use of volasertib in rhabdomyosarcoma, an aggressive form of sarcoma commonly diagnosed in children and adolescents. Oncoheroes now owns all the rights to volasertib and has active plans for a collaborative European trial, with quick expansion into US sites.
The volasertib story is very promising for rhabdomyosarcoma patients and a great example of how innovation could reach children with cancer. That promise energizes Oncoheroes to scout for similar licensing opportunities to generate a diverse pipeline of pediatric oncology drug development assets.
How can non-profit organizations support this effort?
Oncoheroes is a mission-driven and patient-focused company. While both financial success and sustainability are paramount to attract the capital needed for drug development, a key strategic objective of the company is to stay true to its mission. Having early strategic support from childhood cancer foundations is vital for success.
The National Foundation for Cancer Research was the very first foundation to believe in this approach and provided vital seed funding for Oncoheroes. NFCR is committed to fighting cancer by funding high-risk, high-impact, and potentially high-reward discoveries in the lab and transforming them into life-saving treatments for cancer patients. To this end, they have recently created AIM-HI, a venture philanthropy impact fund dedicated to supporting start-up companies in the oncology space.
Alongside NFCR, a number of childhood cancer foundations have already joined the effort:  fellow CAC2 member, The Andrew McDonough B+ Foundation as well as The Super Sam Foundation and The Gregory foundation have all made a strategic early stage investment in Oncoheroes.  These investments were crucial in getting the company ready for its clinical development activities. They are also extremely valuable because of their wider and positive message to other mission-driven, social and impact investors who may have a much longer-term vision than traditional venture capital investors. This is exactly the type of financial support that will ensure that the voice of our young patients and their families will be constantly heard, and Oncoheroes may be successful in the development of better treatments for childhood cancers. On top of directly speeding up specific drug development projects aimed at actively increasing the number of survivors, foundations supporting our efforts stand to benefit from Oncohoreoes' success, and any financial return provided to supporting organizations will make possible the funding of more projects going forward.
Eventually, we will stop saying that nobody is developing new treatments that are so urgently needed and the opening statement of this post will become history. Let's join forces to support the fight of children and adolescents with cancer.