In this brief webinar we learned more about our new Executive Director, Melissa Jackson. Melissa shared a little about herself and answered questions.
Melissa brings a wealth of knowledge, experience and passion that will greatly benefit our organization. We are optimistic that her energy will lead to new opportunities in our shared mission to create a world without childhood cancer.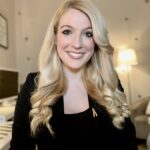 Melissa Jackson
Melissa has over five years of leadership experience in non-profit organizations and public health. Most recently, she served as a Parent Consultant for the Ohio Department of Health. In this role, Melissa represented and amplified the parent perspective within the Child and Family Health Bureau and the Maternal and Infant Vitality Bureau. In addition, she managed Ohio's Annual Childhood Cancer Summit and led Ohio's Childhood Cancer Workgroup.
Melissa, her husband, daughter (a childhood cancer survivor), and young son live in Columbus Ohio.