Phase III Pediatric Brain Tumor Clinical Trial Collaboration
Everybody is worried these days.  We have witnessed toilet paper hoarding and other behaviors that make us feel vulnerable and alone.  That's why we would like to hold up and highlight some fabulous Member Collaborations.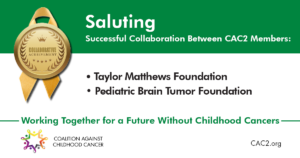 One recent collaboration between two CAC2 members really brings this story of hope in the midst of worry during Coronavirus as these two organizations, The Taylor Matthews Foundation and the Pediatric Brain Tumor Foundation found a way to support funding for a Phase III clinical trial.
Here's the story in their words:
"As you may recall, The Taylor Matthews Foundation first linked arms with PBTF in 2019 to fund a Phase II trial that was showing promise in the Pediatric brain cancer field.   In 2020, as COVID19 was bearing down on the world and causing cancellation of 'life as we knew it', The Taylor Matthews Foundation did NOT allow it to cancel their commitment to supporting research that would have an immediate impact on kids battling cancer, and they once again 'linked arms' with the PBTF to fund a Phase III trial that was opening up in the US.  I know that COVID19 has adversely touched all of our lives (physically, emotionally and financially), but it was truly remarkable how Taylor Matthews Foundation 'leaned in' to the challenge.  I am grateful for the strong relationship that Sue and her Board have fostered with PBTF and know that we are stronger together…still putting the kids and their families first during these unprecedented times."