Guest Blog–September 9 Virtual Day of Action: How to Get Involved
By Guest Blogger Sarah Milberg, Co-Chair of the Alliance for Childhood Cancer and Director of Government Relations and Advocacy for the St. Baldrick's Foundation
Today is the day! The childhood cancer community is joining together today to use our collective voice to build support for funding for the Childhood Cancer STAR Act, the most comprehensive childhood cancer bill ever.
Advocates across the childhood cancer community are writing to their members of Congress, posting on social media, and spreading the word to their networks about today's Virtual Day of Action. If your organization would like to participate, please use these materials so we can all share the same message today.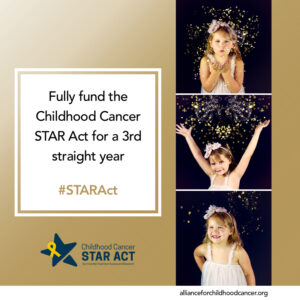 Thank you for your partnership and collaboration today!