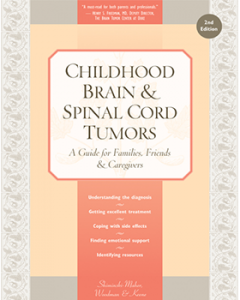 Childhood Brain & Spinal Cord Tumors: A Guide for Families, Friends & Caregivers, 2nd Ed.
BOOK DESCRIPTION:
This comprehensive parent guide covers medulloblastoma, astrocytoma, primitive neuroectodermal tumors (PNET), brainstem gliomas, hypothalamic gliomas, atrypical teratoid/rhabdoid tumor (AT/RT), ependymomas, craniopharyngiomas, germ cell tumors, and choroid plexis tumors. It contains essential information that families and friends need during this difficult time, including how to: understand the diagnosis; get excellent treatment; cope with side effects; find emotional support; and identify helpful resources.
Woven throughout the text are true stories—practical, poignant, moving, funny—from more than 120 children with brain or spinal cord tumors, their siblings, and their parents. The text was reviewed by renowned experts in pediatric oncology, and the foreword was written by Henry Friedman, MD, Deputy Director of the Brain Tumor Center at Duke, professor of neuro-oncology, and professor of pediatrics.
AUTHOR(S):
Tania Shiminski-Maher, Catherine Woodman, MD, Nancy Keene
ABOUT THE AUTHOR(S):
See Nancy Keene's bio for Childhood Leukemia, (previous books).
Tania Shiminski-Maher received her BSN and MS in pediatric primary care from Columbia University and holds an academic appointment to the faculty of Columbia University School of Nursing. For the past 30 years, she has worked as a pediatric nurse practitioner in pediatric neurosurgery and pediatric neuro-oncology and has published extensively in the areas of pediatric brain tumors, hydrocephalus, and multidisciplinary team communication. She has been a member of the Children's Cancer Group (CCG) and Children's Oncology Group (COG) for the past 25 years.
Catherine Woodman received her BA in biology and her MD from Brown University. She has been on the faculty at the University of Iowa in the departments of psychiatry and family medicine for more than 20 years. She has served as a member of COG for 10 years and is on its Patient Advocacy Committee, Ethics Steering Committee, and Central Nervous System Tumors Steering Committee. In addition, Dr. Woodman served on the National Cancer Institute's Pediatric Central Institutional Review Board for 6 years. Her young adult son is a survivor of medulloblastoma.
PURCHASE BOOK URL:
---