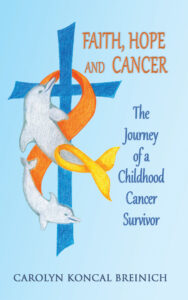 Faith, Hope and Cancer: The Journey of a Childhood Cancer Survivor
BOOK DESCRIPTION:
Carolyn's life changed the moment she heard the words, "You have leukemia." This is
Carolyn's story of being diagnosed with cancer as a teenager, surviving treatment and
then navigating life afterwards. She survived a major medical mistake, experienced
miracles, discovered the healing power of dolphins, lost friends, fumbled her way
through relationships, and overcame depression that came later in life.
Her story will make readers laugh, cry and feel inspired. It will help cancer patients
realize they are not alone. Healthcare workers will gain a deeper understanding on how
to work with children and young adults diagnosed with a life-threatening illness. Family
and friends will understand the importance of their role in their loved one's journey. All
readers will discover how important faith and hope truly are, especially when it seems
there is nothing else.
AUTHOR(S):
Carolyn Koncal Breinich
ABOUT THE AUTHOR(S):
Carolyn was diagnosed with Acute Lymphocytic Leukemia in 1994, five days before her
14th birthday. Carolyn earned her bachelor's in zoology from The Ohio State University
and her master's in recreational therapy from The University of Toledo. Carolyn is a
dual certified recreational therapist/child life specialist and has worked with pediatric
cancer patients in a hospital, outpatient clinic, and in the camp setting. Carolyn has
always been a strong advocate for childhood cancer survivors, has volunteered with
various cancer organizations, and presented at conferences on the needs of childhood
cancer patients. Carolyn self-published her memoir, Faith, Hope and Cancer: The
Journey of a Childhood Cancer Survivor, with a goal to share her story of what it was
like to grow up as a childhood cancer survivor. Carolyn wants to make sure future
survivors don't have to go through what she experienced.
PURCHASE BOOK URL:
---