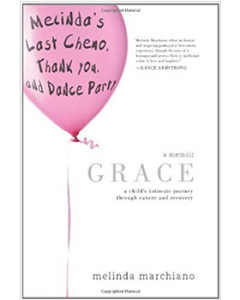 Grace- A Child's Intimate Journey Through Cancer and Recovery
BOOK DESCRIPTION:
Melinda Marchiano first felt an eerie weakness on a family trip to Yosemite National Park and, after doctors found a rock hard lump in her chest, received the devastating diagnosis of Hodgkin lymphoma. Melinda shares the ensuing battle of her young life with eloquence, humor, and wisdom beyond her years. As she struggles through treatment and fights to continue dancing–her greatest passion– Melinda recounts the events of her illness: turbulent emotions, the never-ending support of her family, and growing faith in God through operations, chemotherapy, radiation, drug reactions, an eating disorder, and more.
Whether cancer has touched their lives or not, readers will be inspired by Melinda's complete reliance on God to get her through the terrifying ordeal. The abandonment of self-pity and remarkable tenacity displayed by the spirited young Melinda make this survivor's tale a truly unforgettable experience.
AUTHOR(S):
Melinda Marchiano
ABOUT THE AUTHOR(S):
Melinda Marchiano graduated from Pepperdine University with a Creative Writing degree and is currently Director of their dance company,Dance in Flight. Melinda regularly brings her message of hope to others as an inspirational speaker through keynote addresses, small groups, and special speaker events. She traveled over 10,000 miles, through 31 states, and visited 21 children's hospitals to bring hope to children with cancer. Melinda hosted the powerful childhood cancer documentary, The Truth 365. Her book, Grace: A Child's Intimate Journey Through Cancer and Recovery, received the Benjamin Franklin Best First Book Award from the Independent Book Publishers Association.
PURCHASE BOOK URL:
---