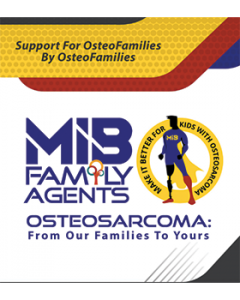 MIB Family Agents
BOOK DESCRIPTION:
Osteosarcoma: From Our Family to Yours is designed to share experiences and thoughts on osteosarcoma from those who have been there. It is information OsteoWarrior Families we had when first diagnosed.
AUTHOR(S):
Ann Graham
ABOUT THE AUTHOR(S):
Liz Vallejo is MIB Agents Chief Family Agent and Floor Manager at MIB Agents Annual FACTOR Osteosarcoma Conference. Most importantly, she is mother to twins Annika and Ian. Ian passed away from osteosarcoma in 2018.
PURCHASE BOOK URL:
---