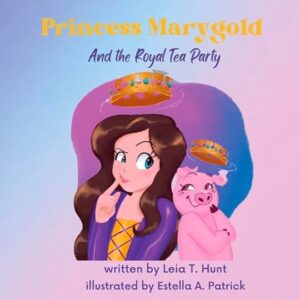 Princess Marygold and the Royal Tea Party
BOOK DESCRIPTION:
Princess Marygold is the world's very first princess who is also a childhood cancer survivor. Along with her best friend, Peppermint the Pig, Marygold works very hard to help kids with cancer find joy and realize that there is a purpose in their lives.
AUTHOR(S):
Leia T. Hunt
ABOUT THE AUTHOR(S):
Leia T. Hunt is a two-time childhood cancer survivor and founder of Leia's Kids Foundation. Leia was diagnosed with Retinoblastoma, a rare form of eye cancer when she was two years old. Leia founded Leia's Kids, a 501(c)3 nonprofit organization at the age of 18, while a senior in high school. The mission of Leia's Kids is to provide hope and support to children and their families battling childhood cancer. Leia recently began her first year as a first grade teacher.
PURCHASE BOOK URL:
---