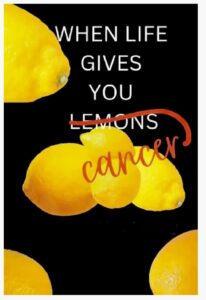 When Life Gives You Cancer
BOOK DESCRIPTION:
A combination of poetry written with personal experiences of Alea Ramsey to share her diagnosis at age 13 and her continued battle with osteosarcoma. Her perspective of being an AYA cancer fighter, nonprofit CEO, and advocacy for Childhood Cancer Awareness!
AUTHOR(S):
Alea Ramsey
ABOUT THE AUTHOR(S):
Alea Ramsey was diagnosed at age 13 with osteosarcoma. She is now 18 and her fight continues after 9 relapses, treatments, trials, and surgeries. Her perspective and perseverance is documented in her memoir with her poetry collection she wrote while in treatment.
PURCHASE BOOK URL:
---