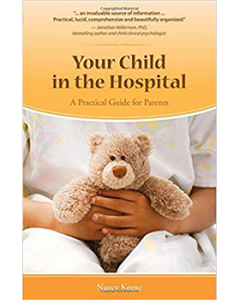 Your Child in the Hospital: A Practical Guide for Parents, 3
BOOK DESCRIPTION:
Millions of parents take their child to the hospital each year for stitches, outpatient surgery, or longer stays for serious illnesses. Your Child in the Hospital: A Practical Guide for Parents is packed with sensible tips and home-grown wisdom that will make any visit to the hospital easier. It explains how to cope with procedures, plan for surgery, communicate with doctors and nurses, and deal with insurance companies. Woven throughout the text are dozens of practical and encouraging stories from parents who have been through the experience of having a child in the hospital. This new edition contains a packing list, hospital journal for children, and helpful resources for parents. When you are packing the stuffed animals and pajamas to take to the hospital, make sure to take this book with you!
AUTHOR(S):
Nancy Keene
ABOUT THE AUTHOR(S):
Nancy Keene is the mother of a long-term survivor of childhood cancer. A well-known writer and advocate for children with cancer, she has written many books about childhood cancer. Her work has also appeared in Reader's Digest, Journal of the American Medical Association, Exceptional Parent, and Coping Magazine. In her spare time, she likes to read, hike with her dogs, and kayak in the waters of the Pacific Northwest.
PURCHASE BOOK URL:
---