CAC2 Member Blog–Joint-Funding Initiative for Ewing Sarcoma
By CAC2 Member Sarah Bartosz, Beat Childhood Cancer
This collaborative research effort was due in part to childhood cancer groups coming together as part of CAC2.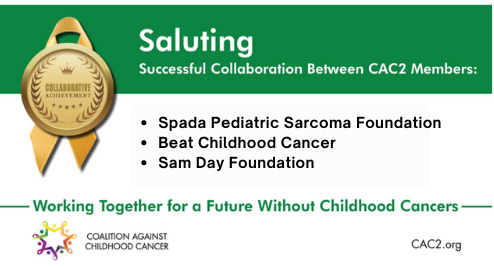 Nearly one year ago, Gold In September (G9) joined forces with Beat Nb to become Beat Childhood Cancer, a single organization building research infrastructure, funding precision medicine, and growing the conversation to champion gold awareness. With belief in parent impact as a driving force, the expanded Beat Childhood Cancer organization has forged a new collaboration with other CAC2 members.
In an effort to find novel ways to support precision medicine efforts, The Spada Pediatric Sarcoma Foundation is spearheading the creation of a Ewing Sarcoma Precision Medicine Research Fund within the Beat Childhood Cancer Research Consortium. This support is the combined effort of three Wisconsin families deeply affected by Ewing Sarcoma.
Together with support from the Sam Day Foundation, a total of $250,000 has been committed to use what Beat Childhood Cancer has learned utilizing precision medicine over the last decade and build a program focused on Ewing Sarcoma. This is an exciting initiative for everyone involved and will drive genomic sequencing for kids battling Ewing Sarcoma using whole exome sequencing to look at both DNA and RNA to discover tumor pathways and targets with a goal of developing new clinical trials.
A true testimony of collaboration and the real impact families can have (and have had) by coming together!