CAC2 Collaborative Achievement–Foundations Moving Towards A Venture Philanthropy Model
This collaborative research effort was due in part to childhood cancer groups coming together as part of CAC2.
CAC2 salutes CAC2 Member Organizations The Andrew McDonough B+ Foundation, Jeff Gordon Children's Foundation, The Children's Cancer Research Fund, along with other community partners who have joined forces with CAC2 Supporting Organization Oncoheroes Biosciences in a unique effort against childhood cancer.  These foundations choose to invest in drug development to get promising drugs across the developmental "valley of death."
The drug development process consists of a long and arduous series of steps to bring a new pharmaceutical drug to the market. The valley of death is the transition between early discoveries and clinical development, or, in other words, the process to turn scientific findings (bench) into potential treatments (bedside). There are numerous challenges in reaching the clinic, including lack of know-how, lack of a regional drug development ecosystem, and, more importantly, limited funding. Public and non-profit entities generally fund the initial basic research phase. In contrast, the private sector mainly supports the later clinical stage.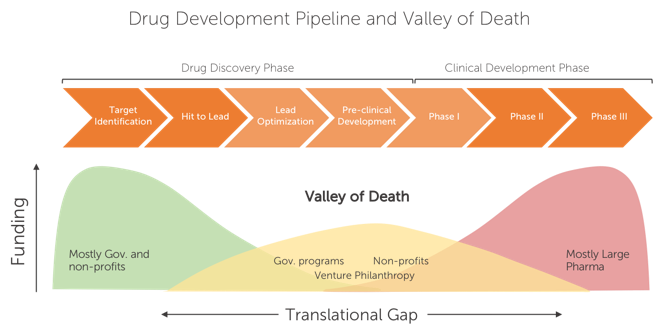 In the last decade, some non-profit disease-focused foundations adopted the venture philanthropy approach, investing strategically in promising translational ventures and helping to overcome the valley of death. The practice of venture philanthropy offers non-profits the opportunity to maximize their impact while potentially generating additional funds. Fortunately, we are seeing more and more foundations adopting this model.
Moving from bench to bedside is hard enough for therapies treating common diseases. The barriers only get higher for those with rare indications, like childhood cancer where foundations have been denouncing the lack of early-stage funding from the private sector; of incentives, and of industry interest. 
Despite foundations having made tremendous efforts for years and years by supporting pediatric cancer research, these efforts have not turned into actual treatments.  Only six drugs have been specifically designed and approved for pediatric cancer versus more than 200 for adults in the last decades. 
Oncoheroes' founders, Cesare Spadoni and Ricardo Garcia, realized that funding into pediatric academic research would not be enough to result in new pediatric approved drugs because of the lack of drug development expertise. Thus, Oncoheroes Biosciences was born in 2017 as a ground-breaking biotech company exclusively focused on the discovery and development of better drugs for children and adolescents with cancer.  To learn more about venture philanthropy at Onchoheroes visit https://oncoheroes.com/
Together, we will make a difference.