Fueling the Lifelong Fight Against Childhood Cancer: Nutrition for Patients and Survivors
By CAC2 Organizational Member David Achey (Wit You Against Childhood Cancer)
Childhood cancer is a challenging experience that affects everyone: the child, their family and their loved ones. Both during and after treatment, nutrition plays a critical role in supporting the health and well-being of childhood cancer survivors and caregivers. Proper nutrition can help manage treatment-related side effects, support healing and recovery, and promote a long, healthy cancer-free life.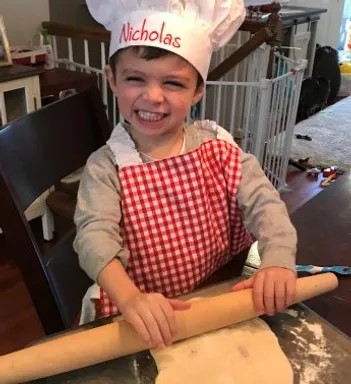 Per the American Cancer Society[1], proper nutrition can help childhood cancer patients and survivors:
Feel better and sleep better;
Work better with their healthcare team;
Reduce irritability and improve dealing with treatment and side effects, both immediate and long-term;
Maintain schedule for treatment of late effects, as well as for regular screenings and diagnostics;
Heal and recover faster;
Lessen risk of infection;
Increase strength and energy;
Reach and maintain a healthy body weight; and
Maintain the body's storage of nutrients.
Learning and promoting healthy eating habits can make a positive life-long impact on everyone involved. A 2021 study indicated that 94% of patients were not consuming an adequate intake of vegetables, and half of the vegetables that were consumed were labeled as "discretionary" (i.e., potato chips or french fries)[2].
For any nutrition program, we suggest focusing on three key elements:
Adequate Calorie and Protein Intake: Childhood cancer patients and survivors often have increased energy needs due to the demands of cancer treatment and the body's efforts to heal, as well as different types of long-term side effects and late effects.Ensuring that both patients and survivors receive enough calories and protein is crucial. Calorie-rich foods such as healthy fats, lean proteins, and complex carbohydrates can provide the necessary energy, while protein-rich foods such as lean meats, fish, eggs, dairy products, legumes, and nuts can help with tissue repair and wound healing.
Nutrient-Dense Foods: Childhood cancer patients and survivors need a variety of vitamins, minerals, and antioxidants to support their immune systems and overall health. Colorful fruits and vegetables, dairy or dairy alternatives for calcium, whole grains such as fortified cereals or breads, and "healthy fats," such as fatty fish or nuts for omega-3 fatty acids, are good choices.
Hydration: Staying hydrated is crucial for childhood cancer patients and survivors, as it can help manage treatment-related side effects and support overall health. Encouraging them to drink water, herbal teas, and other hydrating fluids can help maintain adequate hydration levels and prevent issues such as constipation, nausea, and mouth sores.
Managing treatment-related side effects can be a lifelong battle. While in treatment, your child's appetite may reduce, or they may not be able to tolerate certain foods. Nausea, vomiting, changes in taste buds, and mouth sores are also common side effects of cancer treatment. Working closely with a healthcare provider or registered dietitian can help manage these side effects, but options may include eating smaller, more frequent meals, avoiding spicy or acidic foods, and incorporating soft or bland foods. We have found that smoothies and shakes are a big hit with many patients.
Childhood cancer survivors may face long-term effects from cancer treatment that may impact their nutritional needs. Monitoring for potential late effects, such as bone health issues, hormonal imbalances, insulin resistance, cardiovascular risks, or secondary cancers, is important and nutrition should be a priority throughout the rest of the patient's life. Learning healthy eating habits early in life can help prevent, delay, or treat chronic health conditions later in life.
In addition, good nutrition is also important for parents, caregivers, and other family members! Nearly two-thirds of parents reported having a poor diet and nutrition during their child's cancer treatment[3]. Yet, proper nutrition starts at home with the parents and caregivers from a habit-forming perspective.
In conclusion, nutrition is a vital component of care for childhood cancer patients, survivors, and their parents, caregivers, and additional family members. It is important to achieve adequate calorie and protein intake by eating nutrient-dense foods and maintaining hydration.  Furthermore, it is important to manage treatment-related side effects and late effects, and incorporate long-term monitoring of nutrition during and after treatment. Working closely with a healthcare provider or registered dietitian can help develop an individualized nutrition plan for optimal health and well-being.
Where should you start in your nutrition journey?
Two of our favorite recipes from Happily Hungry: Smart Recipes for Kids with Cancer, by Danielle Cook Navidi (available on Amazon)
Succulent Strawberry-Banana Smoothie
½ banana
½ cup fresh or frozen strawberries
½ cup berry juice
¼ cup soft silken tofu
Squeeze of lemon juice, to taste
Agave nectar, to taste
Process all ingredients in a blender until smooth. Makes one 13-ounce smoothie.
Nutritional info: Calories: 277; Total Fat: 3.1g; ProteinL 4.5g; Carbohydrates: 63g; Sugars: 34g
This recipe is great for mouth sores, difficulty swallowing, fatigue, and nausea or appetite loss!
Kids' Favorite Chicken Noodle Soup
1 tablespoon olive oil
½ tablespoon butter
1 medium carrot, diced
1 celery stalk, diced
1 shallot or small onion, minced
1 teaspoon turmeric
1 tablespoon rice flour
4-5 cups chicken broth (preferably organic, low sodium)
½ cup alphabet or vermicelli noodles
1 teaspoon agave nectar
Fresh lemon juice to taste
Salt and pepper to taste
In a medium-sized pot over medium heat, melt the butter with the olive oil. When the butter begins to bubble add the carrot, celery and shallots. Sauté until the vegetables begin to soften, about 4 minutes. Sprinkle in the turmeric, then add the flour and cook for another minute, until the flour is well-absorbed into the vegetables. Add 1 cup of chicken broth and stir well. Add the remaining broth, the pasta, lemon juice and agave. Bring to a gentle simmer for 20 minutes. Adjust taste for salt, pepper and more lemon, if necessary. Serves 4.
Nutritional info: Calories: 302; Total Fat: 10g; Protein: 5.7g; Carbohydrates: 55g; Sugars: 16g
Try this staple for constipation, difficulty swallowing, fatigue, neutropenia, or taste alterations!
---
Wit You Against Childhood Cancer provides social, financial, and nutritional support to families battling childhood cancer in the Philadelphia area. The Health Wit initiative supports childhood cancer nutrition research and education, as well as healthy, on-the-go snack and meal-replacement boxes for families as they progress through their cancer journey, from diagnosis through survivorship. More information can be found at https://www.wityou.org/.
---
[1] https://www.cancer.org/cancer/survivorship/children-with-cancer/nutrition/benefits.html
[2] https://pubmed.ncbi.nlm.nih.gov/33960867/