CAC2 Member Blog–Celebrating the Introduction of The Comprehensive Cancer Survivorship Act
By CAC2 Member Jess Kean, Children's Cancer Cause.
The Comprehensive Cancer Survivorship Act was introduced in Congress on December 14, 2022. As the only childhood cancer organization involved in the drafting of this legislation, CAC2 Member Children's Cancer Cause is pleased to share the details of this bill with other CAC2 members in the hopes that the community will join us as we work toward its passage.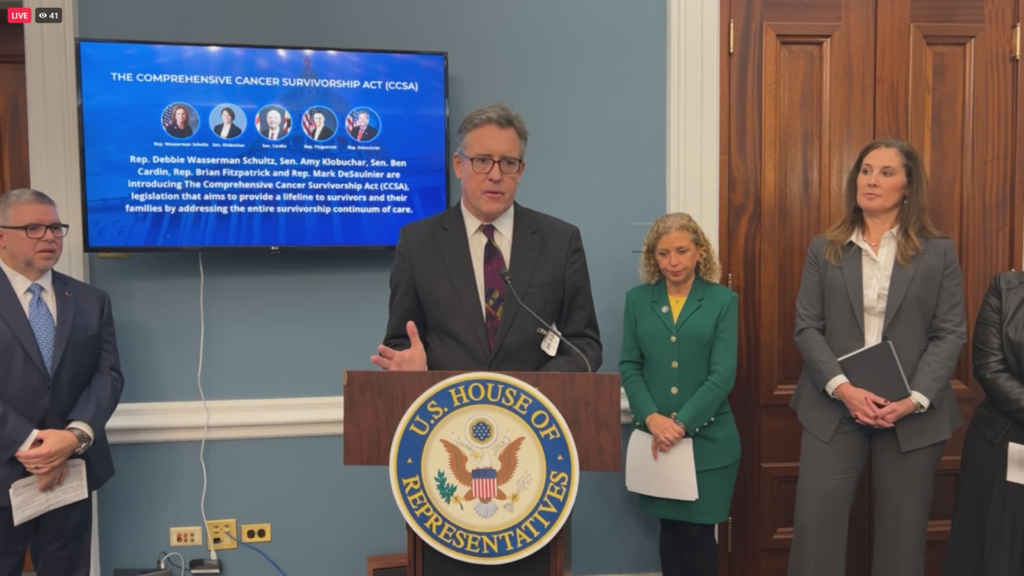 The Comprehensive Cancer Survivorship Act addresses care planning, transition, navigation, reimbursement, quality, and so much more. It aims to address gaps in survivorship care and develop desperately needed standards to improve the overall patient-centered quality of care and navigation needs of the nation's 18 million cancer survivors of all ages. You can read about all the provisions of the legislation in the Section-by-Section summary.
Children's Cancer Cause worked closely with Hill staff for the last several years on this legislation and ensured that the following pediatric cancer survivor provisions were included in its bipartisan introduction:
Section 13: Promoting state innovations to ease transitions from active oncological care to the primary care setting for children with cancer through the creation of a stakeholder work group, a report from the Department of Health and Human Services, and the development of best practices based on the workgroup and report.
Section 14: Implementing a new Center for Medicare and Medicaid Innovation Medicaid pediatric survivorship care demonstration model, which has been a legislative priority of Children's Cancer Cause for the past several years.
Please join us in thanking Representative Debbie Wasserman Schultz (FL-23), Rep. Brian Fitzpatrick (PA-1), Rep. Mark DeSaulnier (CA-11), Senator Amy Klobuchar (MN), and Sen. Ben Cardin (MD) for championing this bill and the monumental achievement of introducing it before the 117th Congress comes to a close.
More than 95% of childhood cancer survivors will have a significant health related issue by the time they are 45 years of age. Despite many studies and reports over the past twenty years, there is no standard of care for the treatment of these individuals in the primary care setting even though they face significant and unusual health challenges, including hearing loss, osteoporosis, infertility and cardiac late effects.
Experts and stakeholders agree regarding the systemic problems that plague survivors over their lifetime – insurance and access barriers, lack of knowledge about how to treat survivors in the primary care setting, the complexity of health conditions experienced by pediatric survivors, and lack of patient knowledge about their status and individual needs as a childhood cancer survivor. Despite these challenges, survivors do not routinely receive explicit guidance – a survivorship care plan – from oncologists about their long-term care needs. Children's Cancer Cause has long advocated the creation of a standard of care for survivorship care planning to address this transition. This bill would take important steps to help further this goal.
CAC2 members and friends are invited to join us in spreading the word about this new legislation to Congressional offices.  Children's Cancer Cause will keep the community informed as The Comprehensive Cancer Survivorship Act makes its way through the legislative process.