CAC2 Member Blog–New Report to be Released: Cross-Sector Strategies for Childhood Cancer Prevention
I frequently speak of viewing childhood cancer like a bicycle wheel with multiple spokes emanating from the hub in the center.  Each spoke represents a problem or area of focus:  drug development, psychosocial care, early detection, survivorship, research funding, access to treatment, financial toxicity.  Etc., etc.  The spokes of the childhood cancer wheel are interwoven.  Participating in groups like CAC2 allows us to see how interconnected everything in childhood cancer really is.
With that said, one area has not truly been intertwined with the other spokes.  This is the issue of prevention, and specifically, prevention of childhood cancer.  Rising incidence rates of childhood cancer diagnoses compels us to think about what has driven the increase, and whether we can act to curb it.  In September 2020, the Max Cure Foundation will join others, including other CAC2 members, to release a critical new report that addresses the increase in childhood cancer diagnoses and highlights possible prevention measures.  The release of the report culminates more than two years of work and represents the beginning of a more inclusive discussion to put prevention on equal footing with treatment and the "cure."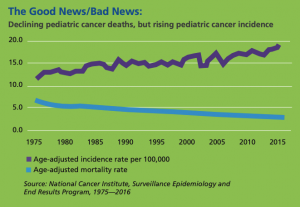 We hope the forthcoming report opens the discussion of prevention to a wide audience so we can find common ground.  This might mean working to create effective strategies that address the issue of chemical exposure as it relates to the diagnosis of childhood cancer.  It might also mean creating opportunities for apolitical cross-sector collaboration. We want the community to embrace the call for attention to the prevention of childhood cancer with the same strong and unified voice as it lends to treatment and survivorship issues.  We hope to link prevention as another major spoke of the childhood cancer wheel.
Let me explain.  Scientific evidence exists demonstrates that children experience a greater susceptibility to harm from the exposure to toxic chemicals (many of which are known carcinogens).  Some studies show that some common toxic chemicals create alterations at the cellular level that can create greater vulnerability to a cancer diagnosis.  Further research will help us understand the threats posed by chemically toxic consumer products and other carcinogenic agents and will help to guide us to create safer environments.
Understanding the amount and type of chemical exposure is also important to designing courses of treatment for children already diagnosed with cancer. Additionally, for children who survive their diagnosis and treatment, understanding the variable impact of toxic chemicals from pre- to post-treatment creates opportunities to implement measures to protect our children more effectively.
One important possibility includes such simple steps as chelation therapy (to reduce toxicities from pre-diagnosis exposures as well as treatment related issues).  It might also inform survivorship research aimed at the reduction of acute life-long side effects experienced by these children as they grow.  Prevention should be considered in the same conversation as treatment and should be spoken of in the same way as the "cure."
The trouble is that prevention is considered a fringe topic, and the focus frequently extends in only one direction.  More helpfully, we should understand that prevention of toxic exposure could and should guide treatment, and treatment should guide prevention through creating policy aimed at reducing exposure in the first place.  If we cannot prevent diagnosis rates of childhood cancer from increasing, at least we can understand what issues children encounter when they present for treatment that have resulted from exposure to toxins in their bodies.  By understanding this issue, research can be reverse engineered to understand what positive impacts can be created from reducing exposures to toxins in the first place.  This bidirectional analysis taken as a whole delivers a massive opportunity to help children fighting cancer today and to reduce the number of children diagnosed tomorrow.
Our community action plan is hopeful and simple:  elevate the issue of prevention and create space for discussion and attention, then observe and build on the response.  The greater challenge, one which is addressed squarely in the forthcoming report, is to find actionable ground within Congress and the business sector.  This is not an issue for one foundation or another, and the Max Cure Foundation does not and will not control this topic.  We hope that many organizations will help bring the issue of prevention into focus for our community and for researchers, clinicians and legislators alike.  This report and the underlying project represent a concerted multi-stakeholder effort aimed at building the necessary bridge.
"An ounce of prevention is worth a pound of cure…"  Benjamin Franklin was a visionary when he spoke those famous words.  In the context of childhood cancer, preventing the distribution and exposure to toxic chemicals that are either known carcinogens or that act with other chemicals to cause cancer, will have the positive benefit of reducing the number of children diagnosed each year.  This will provide the research and clinical community greater ability to focus upon the "cure" as it relates to forms of childhood cancer that continue to suffer from ineffective therapies and a stagnant survivorship curve.  Prevention most certainly will not supplant the need to develop better therapies.  It will, however, ensure that there will be fewer children needing them in the first place.
Please consider attending the August 19 CAC2 All-Member webinar "An Ounce of Prevention, A Lifetime of Health:  Childhood Cancer Prevention Initiative."