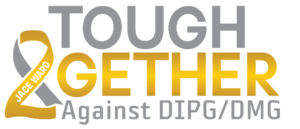 Tough2gether Against DIPG/DMG
Tough2gether Against DIPG/DMG (an operating subsidiary of Arms Wide Open Childhood Cancer Foundaiton) collaborates with the DIPG/DMG, brain cancer and pediatric cancer communities to bridge gaps in research funding, access to trials, patient support, relevant information to families and advocacy. Tough2gether sees itself as a crucial peace of the puzzle to bring research to the bedside and children with DIPG/DMG to better treatments. We also support childhood cancer famillies in the NE Kansas area. Tough2Gether Against DIPG/DMG began operating in 2021.
620-669-7811
We serve the DIPG community in the United States and childhood cancer families in NE Kansas.
Lisa Ward
---