By CAC2 President Vickie Buenger
At our January 2020 board retreat in Philadelphia, the CAC2 Board of Directors began what will ultimately be an 18-month leadership transition, carefully designed to ensure long-term sustainability of the organization. In March 2020, we presented our draft succession roadmap to all of you during the All-Member Webinar, and we have made every effort to keep you apprised of this process over the past year.
We are now at the 14-month mark of this succession work and have exciting news to share:  We have selected and hired CAC2's first Managing Director!
This thorough, thoughtful process was executed by the Managing Director Search Committee, composed of experienced and dedicated volunteers. The Search Committee recruited and screened 17 serious candidates, each receiving an extensive resume and credentials review. From there, eleven highly qualified applicants were selected for a phone screening interview, and four finalists participated in a round-robin style video interview, guided by a pre-designed interview rubric.
I am thrilled to share that the candidate that we hired was the unanimous and independently selected first choice of the Search Committee.
Please join me in welcoming the very talented Mandy Spielvogle Powell as the first paid professional staff member of CAC2.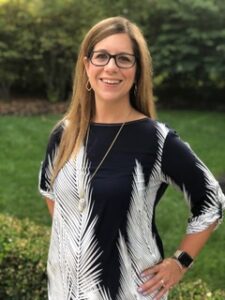 Mandy brings more than 15 years of leadership experience in non-profit organizations and educational institutions. Most recently she served as the Executive Director of Nellie's Champions for Kids (NC4K), a nonprofit based in Columbus, Ohio, dedicat
ed to providing financial and emotional support for childhood cancer families. In this role she embraced the opportunity to create a meaningful difference in the lives of families served by NC4K while also prioritizing strategies to strengthen the organization's operations and partnerships.
Mandy lives in Columbus with her husband and three kids. Her first day is April 19th and she looks forward to making her introductions and getting to know all of you in the coming months.
On behalf of the CAC2 Board of Directors, we extend our sincerest gratitude to the Search Committee, who we commend for their attention to detail, time sensitivity, and thoughtful evaluation of the candidates that applied for this position. The Search Committee's timeline for this entire process was extremely tight, but admirably, they finished their work ahead of schedule.
I also extend my gratitude to the CAC2 Leadership Succession Planning Team, made up of Board Members and led by Sarah Bartosz and Mariah Forster Olson. This team assembled the Search Committee and made final decisions about this new hire based on the Search Committee's recommendation. The Leadership Succession Planning Team has been building onboarding processes in anticipation of this moment, and our transition work continues, including drafting plans for required governance amendments to our bylaws for our members to consider at the CAC2 virtual Annual Summit in June.
Hiring Mandy is one of three components of the broad and ongoing Leadership Succession Plan. The plan also calls for a restructuring of the CAC2 Board, to create a sequential set of Board leadership roles:  Chair-Elect, Chair, and Past Chair.  The new structure builds towards a three-year leadership commitment for the incoming Chair-elect, and pending the successful bylaws amendment, the new Board structure will go into effect following the next Board class election in June.
The third component of the Leadership Succession Plan—also going into effect after the June governance voting—involves the planned transition for me into the newly created role as President Emeritus.  As President Emeritus, I will continue to serve and support CAC2 as a non-voting, ex-officio Board Member.  In this role I am committed to:
walking shoulder-to-shoulder with Mandy during the onboarding process to guarantee she is comfortable in the administrative and operational work that she will take on,
smoothing the transition for the new Board leader and providing input and guidance when it is requested, and
continuing to perform volunteer roles within CAC2, based on what the organization needs and on my unique skill and experience set.  These might include building and maintaining CAC2's reputation as a trusted partner with community stakeholders and solidifying and extending CAC2 relationships through advocacy and collaboration efforts throughout the community.
For those who have not followed this process closely or who still have questions, I am attaching for reference an FAQ document about the ongoing leadership succession process.  Also, please remember that volunteerism is the heart of CAC2 and that will not change.  The way that we harness our ideas and energy to design and deliver collaborative initiatives regarding childhood cancer is unique to the fabric of CAC2, and we must continue in that spirit.
We are full of enthusiasm for what this huge step means for the future of CAC2, and we are optimistic that the addition of Mandy to our team will open new doors as we work together today for a future without childhood cancers.