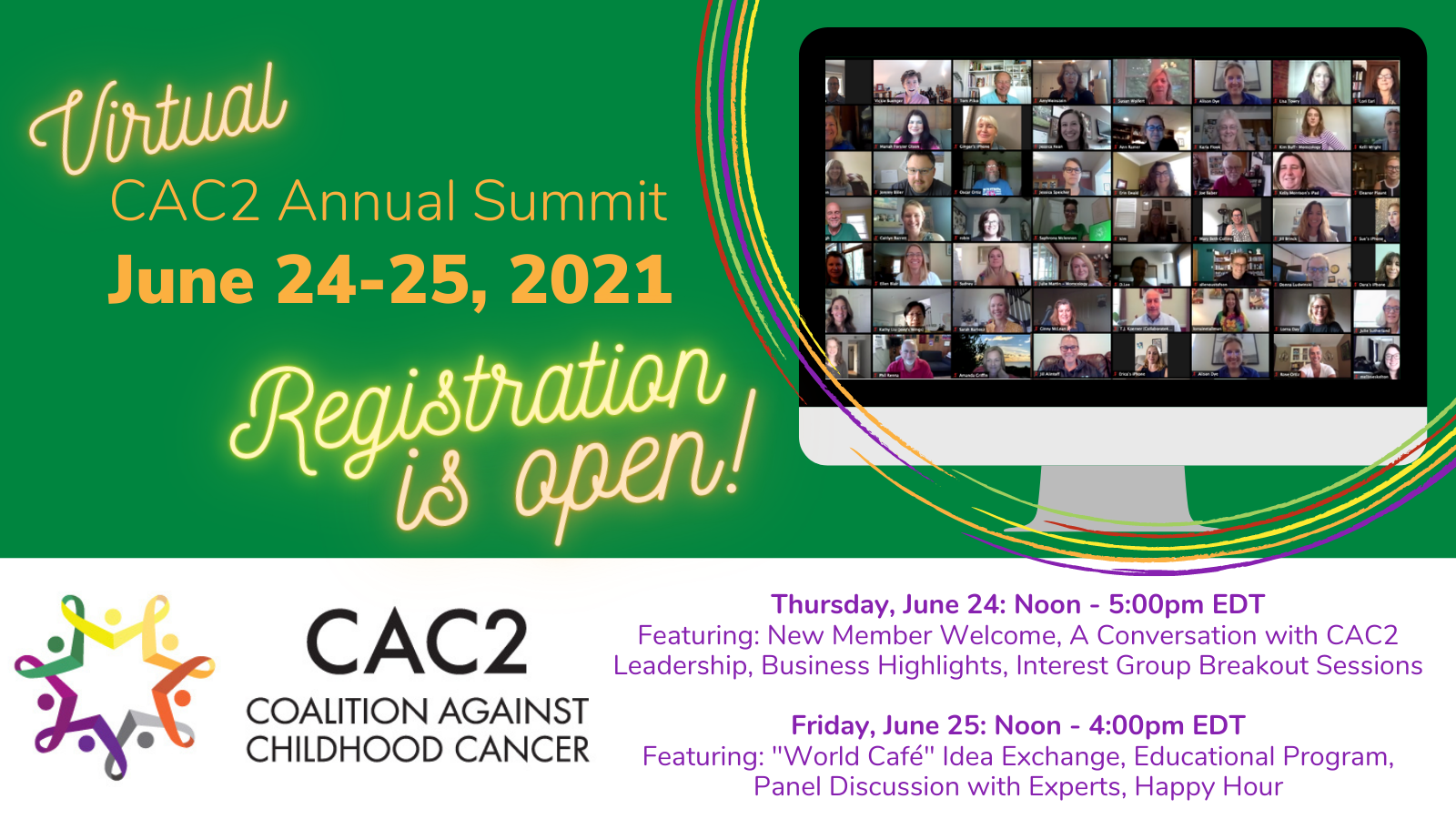 Registration is now open for CAC2's 2021 Annual Summit, taking place virtually Thursday, June 24th and Friday, June 25th.  This year we will meet two consecutive afternoons on Zoom.  The CAC2 Meetings Team has designed a robust program that will balance expert content presentations with opportunities for active engagement for attendees.
We will kick off the first day at noon ET with a session welcoming New Members and giving them the chance to "meet & greet" each other and learn how to engage the many resources and opportunities available to CAC2 members.  The afternoon will also include the members-only Business Meeting with the year's highlights, Meet Mandy!  a Q&A with leadership and our new Managing Director Mandy Spielvogle Powell, and our popular Interest Group breakout sessions. The annual Business Meeting is mandated by our by-laws and requires strong member participation, so we are relying on your attendance to help us make it a success!
When you register for the Summit, you'll be asked to select which Interest Group session you'd like to participate in on the 24th:  Advocacy & Awareness, Research, Family Support, or Survivorship.  Over the next few weeks we'll bring you more detail about issues that each Interest Group plans to tackle during this breakout session time.  Please make your best guess selection during registration.  You can let us know later, if you change your mind.
On the afternoon of Friday, June 25th, our educational program will dive into a range of timely topics that are impacting our community, including:
World Cafe Idea Exchange: Small Group Conversations to Prepare Us for the Post-Pandemic World

An afternoon of speakers and panel discussions, featuring sessions on survivors' transition to adulthood, pediatric oncology drug development with kids top of mind, and more

Team Time Happy Hour
We'll have the full program finalized soon and available for you to view in detail here on the CAC2 website.
Thank you for making it a priority to set aside these two summer afternoons to join us as we learn and work together.  Register here:  https://www.eventbrite.com/e/2021-cac2-annual-summit-registration-151496473029