CAC2 Member Blog–Taking Childhood Cancer Advocacy on the Road: Childhood Cancer License Plates
By CAC2 Member Mary Beth Collins, PREP4Gold
For the entire month of September the world hears a great deal from the childhood cancer community, feverishly raising awareness, advocating for programs & funding, and sharing stories about treatment, survivorship, and bereavement. Social media posts are in abundance, medical experts and advocates are interviewed, and researchers publish papers with the latest data. Each day of the month, there is a great deal provided about childhood cancer as Childhood Cancer Awareness Month (CCAM) continues to strengthen in message and resolve. Come October 1st, some wonder what can be done to sustain some of that energy and advocacy in their own community. A simple way is by obtaining a specialty license plate for your car raising awareness everywhere you go!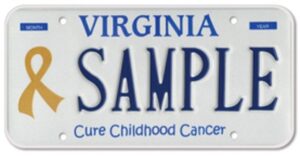 Advocacy Required to Create the Plates
Creating these plates is no simple task. Every state has a different procedure to apply for such a plate, and often it includes gathering signatures or orders from interested car owners long before they accept the application and agree to issue the tag. For every plate available, committed advocates have spent a great deal of time raising awareness on the issue, securing signatures, and working with the state department of motor vehicles. There is an additional fee to purchase these plates, and with each purchase a donation is typically made to either a childhood cancer nonprofit, or medical facility. Some states provide actual plates while others issue stickers for your tag. As of May 2021, 34 states have a specialty childhood cancer license plate.
Why Obtain a Specialty Plate?
There are two important reasons to consider the purchase of a specialty plate. The awareness is important. The general community may be aware of yellow ribbons worn by their favorite MLB players, and many donate to nonprofit fundraisers during CCAM. But childhood cancer often can get lost in the blur of daily lives not touched by childhood cancer personally. Reminders in such places as a license tag bring the issue again to someone's awareness. Further, not every health concern achieves approval of a specialty plate; seeing one on a car can signal to someone unaware that the problem is serious and demands attention.
There also is an element of sustainability. After so much hard work, and tags are approved and issued, the purchases must continue for the state to maintain the tag. If interest in the tag wanes, the state will cancel the plate and remove it from its offerings. A driver's request for the tag ensures it remains available for others in the state.
CAC2's Childhood Cancer License Plate Awareness
The Childhood Cancer License Plate Awareness effort was created to honor all of the hard work our childhood cancer advocates have invested in this form of advocacy. A chart, available in map form and excel spreadsheet, outlines the status in each state of a specialty plate: availability, effort in progress, or no information available. For those who would like to obtain a plate, the point of contact and process is made available. Some states simply include the childhood cancer tag among its specialty tag options when obtaining a license plate at the department of motor vehicles. Other states require you to contact the nonprofit responsible for its creation, who then processes the request. The chart makes it easy to find out if a plate is available in your state. It also is an indicator for those who may wish to advocate for one in a state where it is lacking. The department of motor vehicles in your state can detail the process to create a specialty plate.
So drivers, check out your state's availability, and consider this small but meaningful way continue the charge of CCAM all year long. Take your advocacy on the road, sharing childhood cancer awareness everywhere you go. Mile by mile, you can do something every day to help your community become more aware of childhood cancer.
Find the CAC2 Childhood Cancer License Plate Awareness Chart here.
Mary Beth Collins, author of the blog #SurvivorshipMatters, is a parent advocate with a son diagnosed with neuroblastoma in 1999 who still manages a number of chronic side effects from treatment. For 22 years she has advocated for childhood cancer issues, focused more recently on issues related to survivorship. She is the co-founder for the CAC2 member organization PREP4Gold.