CAC2 Member Blog–Childhood Cancer Data Initiative Symposium Overview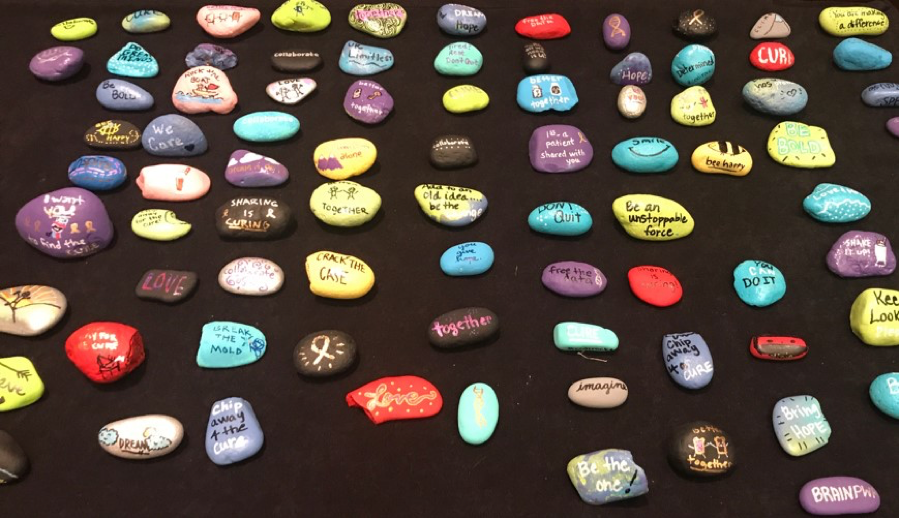 #ccdirocks trended on Twitter as participants at the Childhood Cancer Data Initiative Symposium shared the rocks they selected from among those painted by volunteers from the Dragon Master Foundation. "The rocks brought the children to the meeting, which was so important" –Warren Kibbe
By CAC2 Member Caitlin Barrett, CureSearch for Childhood Cancer
During the 2019 State of the Union Address, President Donald J. Trump raised the possibility of committing $500M over ten years to pediatric cancer research. The National Cancer Institute (NCI) is developing a plan to use this potential budget infusion to assist in the collection, distribution, and use of data pertaining to pediatric cancer research. The Childhood Cancer Data Initiative (CCDI) Symposium took place on July 29-31 2019 and included stakeholders from academia, industry, regulatory, and advocacy. The gathering was the first large-scale, idea-generating meeting held by the NCI focused on the challenges and proposed solutions to sharing pediatric oncology research and clinical data on a large scale and will hopefully build on an earlier NCI meeting convened to discuss the coordination of biorepositories.
A number of CAC2 members attended the meeting and have collaborated to provide this overview for our membership. In attendance (and with apologies to anyone we missed):  Caitlyn Barrett (CureSearch), Vickie Buenger, Anna Greene (Alex's Lemonade Stand Foundation) Julie Guillot (Be Strong Fight On!), Amanda Haddock (Dragon Master Foundation), Warren Kibbe, Pat Lacey (Beat Nb), Maureen Lilly, and Ginny McLean (Swifty Foundation).  Amanda Haddock and Dr. Jackie Taroni (ALSF Childhood Cancer Data Lab) spoke to the assembled group!
What problem needs to be addressed?
 
Approximately 16,000 children and adolescents are diagnosed with cancer in the United States each year. This relatively small patient population requires extensive research and patient data collaboration to draw strong conclusions on why pediatric cancer starts and on its natural history, diagnosis and determination of risk, and targetable mutations for drug development. Without effective and extensive collaboration, there is simply not enough data to generate sustainable research outcomes. Currently, data generated from preclinical studies, patient specimens, and in clinical trials are fragmented and may not be broadly available. Moreover, researchers whose work could benefit from these data may not know that they exist. There is a need to collect, analyze, and most importantly share and integrate standardized data to ensure that the most beneficial outcomes result from the use of the data. Data can come from a range of sources including preclinical animal research, real-world data from patients, patient tissue samples, clinical trial data, and registries. The more data that is shared and used, the more useful the data become.
What are the challenges associated with addressing this problem?
 
Existing data sets are available from many different sources that each collect specific data using a specific language into a specific system. While many individual databases exist, there is an urgent need for a federated data infrastructure so that the power of data analyses can be increased. In addition to challenges with merging existing data, there is not a universal understanding of what data should be collected, and how, from new patients.
Challenges identified at the CCDI meeting included, but were not limited to:
Lack of integration of data from labs and the clinic, including basic, translation, and clinical data;
Lack of universal identifiers, protocols, criteria and metrics;
Inefficient incentives for institutions, patients, and industry to share data;
Lack of consensus on which data to collect now and for any future needs that might arise;
Limiting patient consents that do not enable more complete data collection over time; and
Absence of universal data standards for collection so that data can be shared across projects.
How can we move forward?
 
Though the challenges presented above are not trivial, many of the brightest minds were in the room to begin thinking about how to address them. Importantly, it became clear that patients and families needed to be brought to the table as real-time partners in research, a point emphasized by NCI Acting Director Doug Lowy in his concluding remarks. The data ultimately belong to the patients and their families, and researchers need to be good stewards of the data and tissue that is entrusted to them, so it is important that data is collected and used in the most beneficial manner possible.
To ensure that this occurs, there needs to be a culture shift that extends from research funders to researchers, patients, institutions, and the federal government. Funders must require data sharing of their awardees; institutions must commit to sharing patient and research data; patients must be empowered to advocate for and understand the sharing of their data. All involved must prioritize the collection and sharing of data.
Proposals from working groups at the Symposium were wide ranging and included both short- and long-term goals. Among the proposals that NCI leadership will review and consider implementing were to:
Develop pediatric preclinical models query portals within the CCDI environment;
Increase awareness of data sources through a searchable database of existing data and tissue samples;
Integrate multi-omics data in a query portal to be used for target and biomarker discovery;
Develop new approaches to connecting real-world data with clinical data;
Invest in standardized and systematic patient consents;
Implement a prototype master protocol that is multi-institutional and shifts the culture from performing many small studies to fewer, large, multi-arm studies; and
Create a module for standard data extraction from electronic medical records.
How does a solution to the problem help pediatric cancer patients?
 
As Dr. Lowy stated as he in his concluding remarks:  "The purpose of the data initiative is not to federate the information, it's not to harmonize the information; it's to help children with cancer, it's to help us understand cancer better."
Only with aggregated data can we identify new, important targets and develop interventions against those targets, especially in rare subtypes of cancer. Once we have the background data to understand subpopulations of cancer patients, we can improve diagnosis of pediatric cancer which could lead to treatment de-escalation and a more thorough understanding of why certain patients respond to treatments better than others. A greater quantity of data can also help children who are not on clinical trials. With access to thorough data resources, doctors can easily search for trial data and outcomes, especially in the cases of rarer tumor subtypes, to select better treatment options. In general, it will help answer questions that have been impossible to address without aggregate data. For the shared data to result in such outcomes, it needs to be utilized by researchers of many backgrounds with a variety of research aims. In the long-term these data will help patients. In the near term, they will enable investigators to conduct more precise, complete, and promising research.